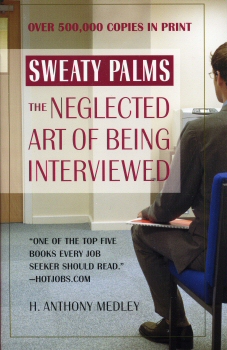 Order from
Sweaty Palms
P.O. Box 360561
Los Angeles, CA 90036
The price of the book is $17.00 including shipping and handling.
Audio Tape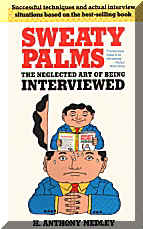 Order from
Sweaty Palms
P.O. Box 360561
Los Angeles, CA 90036

The price of the tape is $17.00 including shipping and handling.

Sweaty Palms: The Neglected Art of Being Interviewed was the first complete book ever written on the interview for the interviewee. First published in 1978 and introduced by Johnny Carson on the Tonight Show, it remains the only book that tells the truth about the job interview, written by someone very experienced in interviewing. All the other information on the market is by consultants, most of whom have little or no actual experience in conducting a job interview, and this lack of experience is shown in the naive and incorrect information contained in their works. Sometimes what they say sounds good, but what sounds good often isn't.
H. Anthony Medley invented, developed, and pioneered the videotape interview, conducting and videotaping thousands of interviews at major law schools nationwide for law firms around the country. As an attorney and businessman he has conducted countless selection interviews to hire employees, evaluate witnesses and clients, and retain consultants.
He is an attorney, businessman, and writer who received his B.S. in Business from UCLA, where he was Sports Editor of the UCLA Daily Bruin, and received his J.D. from the University of Virginia School of Law. In addition to Sweaty Palms, his writings include other books, UCLA Basketball: The Real Story (1972),and The Complete Idiot's Guide to Bridge (Alpha Books, 1997, 2004). His articles have been published in numerous newspapers and magazines such as The Hollywood Reporter, Los Angeles Magazine, and Good Housekeeping, among others. He is a film critic accredited by the Motion Picture Association of America and his critiques appear in several newspapers and on the Internet on the Movie Review Query Engine (www.mrqe.com) and Rotten Tomatoes (www.rottentomatoes.com).
As an attorney, he was a member of the Litton Industries Law Department and negotiated and signed the largest contract the United States Navy had ever signed up to that time, the $2 billion plus contract for the design and construction of the Spruance Class Destroyer. In private practice he represented major corporations. Among many varied and interesting transactions with which he was involved, he negotiated the last agreement Aristotle Onassis entered into before his death, for the design and construction of a 100,000 barrel a day oil refinery. As a businessman, he has operated agricultural businesses, that produced oranges, lemons, avocados, grapefruit, and field crops, and developed and managed residential and commercial real estate.
Click here for Questions and Answers, articles on the interview, and how to submit your question. Click here to read testimonials to Sweaty Palms.